Our mission... Deliver exceptional education and services to improve the lives of our students and to strengthen our communities.
Degree, Certificate and Transfer Programs
D522
Automotive Technology (AUM)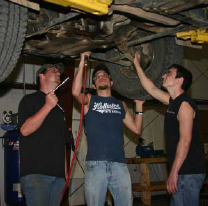 The Automotive Technology degree program will provide students with basic to advanced automotive skills. Students completing the degree can find employment as an auto mechanic, automotive service technician, automotive technician, shop foreman, etc. Jobs can be found in automotive dealerships, auto repair and maintenance shops, retailers and wholesalers of automotive parts, accessories, and supplies, home and auto supply stores, automotive equipment rental and leasing companies, federal, state, and local governments, and automotive small business owners. Upon degree completion, the student may transfer to selected senior institutions to complete a baccalaureate degree. This program and the included courses have been evaluated by NATEF (National Automotive Technicians Education Foundation) and have met all required guidelines. NATEF has awarded this automotive program the MASTER ASE level of certification.
PRINT with Descriptions
|
PRINT