Degree, Certificate and Transfer Programs
C266
Electrical Distribution Systems (EDS)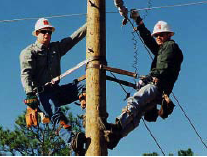 The Electrical Distribution Systems certificate program prepares individuals to build, repair, and maintain electrical distribution systems, overhead and underground, use safe practices, first aid, and perform pole top rescue.
PRINT with Descriptions
|
PRINT
Gainful Employment Consumer Disclosure Information
Semester 1
---
Prefix/Num
Title
Info
CR
SP2016
Semester 2
---
Prefix/Num
Title
Info
CR
SP2016
We recommend that you contact an advisor before enrolling in any degree, certificate, or transfer program to ensure all requirements are met including total hours associated with transfer courses.
This is a General Education or Elective course to be selected and therefore has no schedule link.