District Wide Degree, Certificates and Transfer
List of all programs and transfer recommendations offered. Click on the program name below to learn more about the specific program including an overview and requirements.
D327
Radiography (XRAY)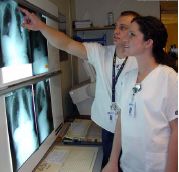 The mission of the Olney Central College Radiography program is to graduate entry-level competent radiographers and provide quality radiography education for the community. The mission is accomplished through program goals. The program is designed to maximize a student's initiative and support his/her development toward becoming a competent entry-level radiographer.
The OCC Associate in Applied Science degree in Radiography is an intensive, two-year (six consecutive semesters) course of study. The program is accredited by the Joint Review Committee on Education in Radiologic Technology (JRCERT), 20 N. Wacker Drive, Suite 2850, Chicago, IL 60606-3182, (312) 704-5304, mail@jrcert.org, www.jrcert.org. Graduates are eligible to take the American Registry of Radiologic Technologist's exam (ARRT). Most states, including Illinois, accept ARRT for state licensure, without additional licensure examination. Employment opportunities for radiographers are available nationwide in all types of medical health facilities and private industry. Further educational opportunities promoting career advancement are readily available.
Please go to the Program Website (www.iecc.edu/radtech) for additional information.
PRINT with Descriptions
|
PRINT