District Wide Degree, Certificates and Transfer
List of all programs and transfer recommendations offered. Click on the program name below to learn more about the specific program including an overview and requirements.
D355
Early Childhood Education (ECD)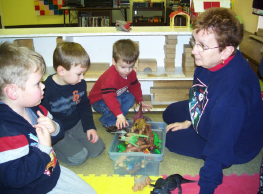 Child care is in high demand and the need for qualified child care providers is also in high demand. The Early Childhood Development program is designed so that graduates meet qualification standards for the full spectrum of child care services and facilities. Graduates of the program are eligible for entry-level jobs as day-care teacher, nursery school teacher, sheltered workshop staff in a work activity, institutional aides for disabled children, and teacher aides for public schools. Also, much of the coursework within the curriculum may be transferable to a four-year college or university. Applicants to the Early Childhood Development degree program should be aware of the restrictions imposed by the Illinois Department of Children and Family Services forbidding employment of identified child abuse offenders in this field. Any applicants so identified will not be permitted to enroll in this program.
PRINT with Descriptions
|
PRINT