District Wide Degree, Certificates and Transfer
List of all programs and transfer recommendations offered. Click on the program name below to learn more about the specific program including an overview and requirements.
D425
Social Services Specialist (SSS)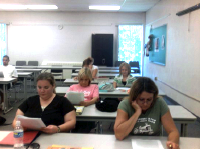 The term "social services" refers to a broad spectrum of professional activities in the area of social service, education, and health. In an increasingly complex society, there is a need for trained personnel for community and group agencies, child-welfare programs, and medical and psychiatric services. Graduates are qualified for entry-level professional positions in nursing homes, sheltered-care workshops, mental health centers, state welfare agencies, or other social service organizations. Students completing the program should be able to communicate effectively with others, apply problem-solving techniques, and perform such tasks as gathering intake information and analyzing data.
PRINT with Descriptions
|
PRINT