District Wide Degree, Certificates and Transfer
List of all programs and transfer recommendations offered. Click on the program name below to learn more about the specific program including an overview and requirements.
D535
Diesel Equipment Technology (DIESL)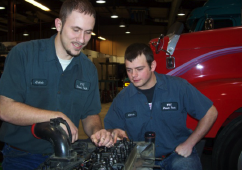 The major objective of this program is to develop competent diesel-power equipment technicians. The program combines concentrated study and work experience so that the student acquires a basic knowledge of science and mathematics, as well as a knowledge of the basic mechanical principles, and the high-technical skills needed for successful entry into the job market. The primary emphasis of this program is the development of mechanical skills, but education and training in parts department operation and management skills also are provided.
Graduates of this program qualify for employment as farm, industrial, and truck equipment mechanics with specialization possible in diesel and/or gas engine repair, hydraulic system repair, power transmission repair, electrical system repair, air conditioning, and equipment assembly and handling. Students are required to provide a basic set of hand tools.
PRINT with Descriptions
|
PRINT