District Wide Degree, Certificates and Transfer
List of all programs and transfer recommendations offered. Click on the program name below to learn more about the specific program including an overview and requirements.
D125
Agriculture Technology | Production (AGP)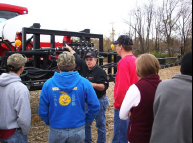 The Agricultural Technology Production Option program prepares students for careers in farming and farm-related occupations. Besides farming, other entry-level occupations that program graduates may seek include agricultural extension, agricultural communication, farm management, agricultural finance, agricultural production, soil and water conservation technicians, and positions in agricultural service and supply industries. Students completing the program will have received a thorough education in basic agricultural sciences, such as soils, fertilizers, chemicals, animal nutrition, agronomy, animal science, and crop production. Students also will be prepared to meet the managerial, financial, and marketing challenges associated with farming. Program flexibility also allows students to upgrade their farm mechanics skills and to participate in livestock evaluation activities.
PRINT with Descriptions
|
PRINT