District Wide Degree, Certificates and Transfer
List of all programs and transfer recommendations offered. Click on the program name below to learn more about the specific program including an overview and requirements.
D115
Agriculture Technology | Business (AGB)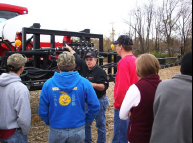 Graduates of the Agricultural Technology Business Option program qualify for a variety of rewarding positions. Areas of employment encompass agricultural sales, marketing, mid-management at dealerships or distributorships, research, or other agricultural positions. Job opportunities include operational or mid-management positions at agricultural suppliers of feed, seed, fertilizer, chemicals, grain, equipment, and other products and services. Upon completion of this program, students should be able to communicate with other people, demonstrate a general knowledge of crop and livestock production, understand the problems of agriculture, be aware of the new developments in farming, and develop skills in marketing, management, and financing in agri-business.
PRINT with Descriptions
|
PRINT