District Wide Degree, Certificates and Transfer
List of all programs and transfer recommendations offered. Click on the program name below to learn more about the specific program including an overview and requirements.
D485
Telecommunications Technology (TEL)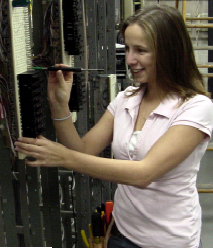 The two-year Associate in Applied Science degree in Telecommunications Technology provides course work in broad areas of telephony. Learned skills will include central office and EPABX switching, fiber optic and copper cable splicing, and installation of home and business telephone systems. Also included are specific courses in mathematics, electricity, electronics, digital techniques, communication skills, and applied computer science. Additional training is provided through an internship program by placing students with telecom firms as on-the-job trainees. Upon graduation, students are employed by interconnects, common carriers, contractors, and telephone companies as technicians and installers with some reaching first-line supervisory positions within a few years.
PRINT with Descriptions
|
PRINT