District Wide Degree, Certificates and Transfer
List of all programs and transfer recommendations offered. Click on the program name below to learn more about the specific program including an overview and requirements.
D515
Collision Repair Technology (AUB)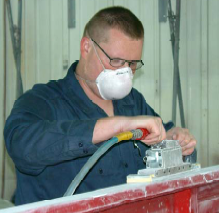 The Collision Repair Technology program is designed to prepare auto body specialists for the repair of body and frame damage of vehicles. Repairing damaged motor vehicles by removing dents, straightening bent frames, and using replacement parts are included in this curriculum. Entry into the program will normally be the first or third semester since the program alternates its offerings each year. The first and second semester courses are offered every other year, with the third and fourth semester courses being taught during the year between. The first and second semesters introduce the student to the basics of auto body repair and finish work while the third and fourth semesters concentrate on the major tasks of panel replacement and frame alignment. Because of the nature of the repair in the auto body shop, the student will often be required to use his/her acquired skills in nearly every class that is taken. As an example, panel replacement will also require students to prepare and finish the panel in order to complete the project.
PRINT with Descriptions
|
PRINT